Natural Products for Caring for the Internal and External Environment of Ducks and Sheep
One of our goals when raising ducks and sheep is to keep their internal and external environment healthy with natural products, avoiding the need to use prescription drugs. At the same time, we are quite lazy and prefer commercial products if possible.
In this post, I will give an overview of the products I have been using for the last three years to take care of our ducks; and during the last year we have gained some experiences with sheep as well. I'll discuss the prices and availability of each product, among other things.
Prevention of Internal Parasites
The most common approach to the prevention of internal parasites in ducks is probably the use of garlic (powder) and pumpkin seeds. However, when we started raising ducks, the most natural way seemed to google around as I wanted to find "something more". I stumbled upon a product called Verm-X for Poultry, Ducks & Fowl, which seemed very interesting to me in its pelleted form. It contains all kinds of plants (Garlic, Cinnamon, Common Thyme, Seaweed Meal, Nettle, Cleavers, Fennel, Peppermint, Slippery Elm, Quassia, Cayenne) and various binders. The pellets are fed to birds once in a month, for 3 days in succession, a spoonful per head. The packaging contains a spoon and directions of use.
The Verm-X pellets have a specific and recognizable scent, which, according to forums, some people enjoy a lot and some don't like at all. Our ducks eat this stuff mixed to their feed quite happily, anyway. Maybe it's purely an emotional effect, but I have given Verm-X pellets to our ducks for a couple of years now and I don't feel like giving up. I do give them garlic powder in addition, in the meantime, if it seems that the droppings of some birds are weird or there is simply muddy and moist outside.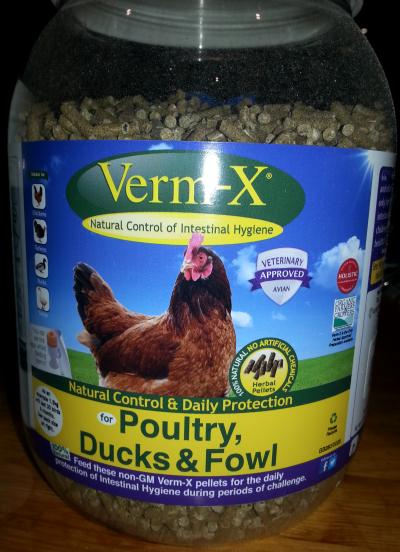 I haven't found any resellers of Verm-X in Estonia, which is not a surprise at all, because we have relatively few hobbyist bird raisers in the context of the worldwide market and many people don't have the possibility to pamper their birds with expensive stuff. However, there are several sellers in UK's Ebay that sell Verm-X products. I have been loyal to the seller happytailwaggers. Most recently, a 1.5 kg jar of pellets cost £ 39.35 (about 53 euros) and the shipping cost was £ 6.00 (about 8 euros). If you don't order during the peak of a holiday season, the parcel will arrive in about a week.
Verm-X is also available for sheep, it turns out. I am using it this winter to prevent parasites in our 4 young ewes. While I have used it for too short a period for sheep to be able to discuss the results, it seems to me that the runny eye problem in one of the ewes I noticed this fall, was cured after the first week-long dose of Verm-X. Yes, for sheep, you give the pellets for 7 days each month, a spoon per head. The 1.5 kg jar of pellets cost £33.42 and the shipping cost was £10.00 which makes the total similar to the cost of the pellets for ducks. I have no idea why they charged a different shipping cost for a jar of exactly the same size.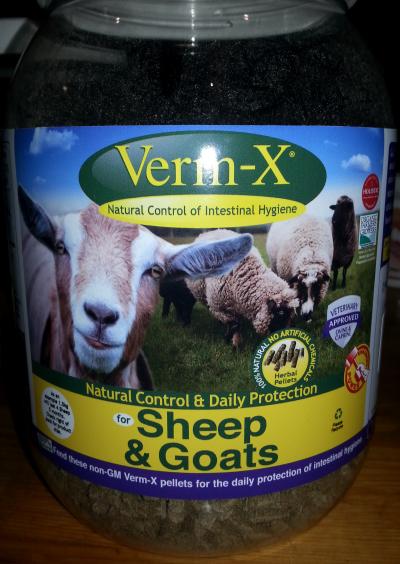 In addition to Verm-X, our young sheep have access to a garlic and mineral mix, Crystalyx Garlyx. This product is sold in Estonian farming stores (for example in E-farmer Rapla and Põllumehe kaubamaja). We paid 49 euros for the 22.5 kg bucket.
A long term effect of this mix is said to be to make the sheep "stink" of garlic so various insects are kept away in the summer. We'll see. Anyway, the sheep enjoy this stuff a lot. The negative side of this is that it seems the bucket will only last a couple of months. It might also be the rain washing some of it away although the product is said to be weather-proof. We have an expensive hobby.
In the picture you can see Krõõt who seems to like the garlic mineral most of the sheep.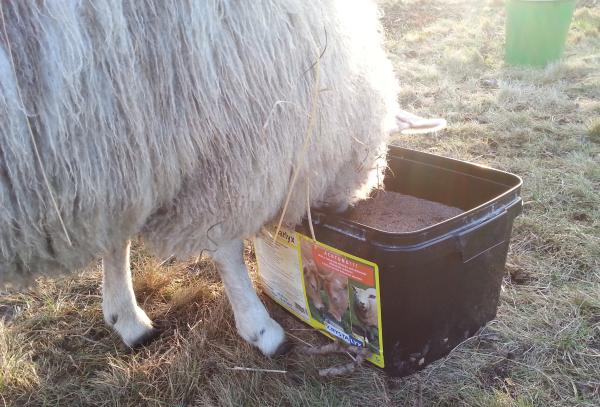 Preventing Respiratory Problems of Ducks
Another group of products I would like to discuss are various liquids that I use for preventing respiratory problems in our ducks, as well as for disinfecting the duck house and fighting with fungi, mostly mold.
A nice liquid that is available in almost any larger drugstore in Estonia is grapefruit seed extract. It costs about 16 euros but lasts long and comes in a small bottle that helps you apply the exact number of drops you actually need.
I discovered it a couple of years ago when one of our ducks kept coughing for a week or so, despite getting regular doses of Verm-X. It must have been a blog post or a thread in some forum that I have forgotten, which recommended the regular use of grapefruit seed extract in the drinking water of domestic birds. Because the coughing ended in a couple of days after I started adding grapefruit seed extract to the drinking water of our ducks, it seemed to me it might have helped… or maybe it was a coincidence. However, every now and then I hear a duck cough, after which I add about 20 drops of grapefruit seed extract to their drinking water (the container is about 10 litres) for a couple of days, and we haven't had major long-lasting respiratory problems.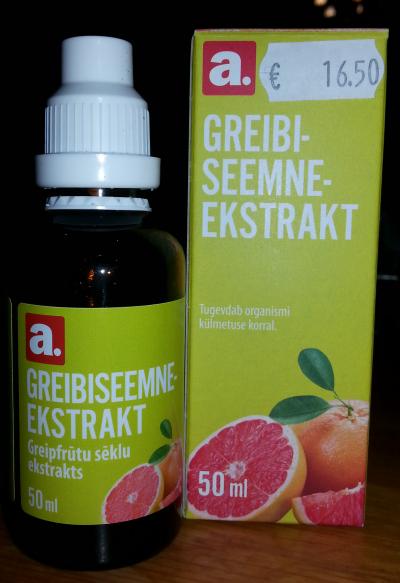 … except for one occasion when we bought a Dark Campbell duck that already had a chronic cold or some kind of sinus problem. Due to our lack of experience we let the seller pack the birds in a box without giving them a close examination, and we only discovered the swollen cheeks of the bird at home.
This led me to search for a more specific natural drug to help cure the problem, and I found a wonderfully-smelling liquid that is only available directly from the US, which is VetRX.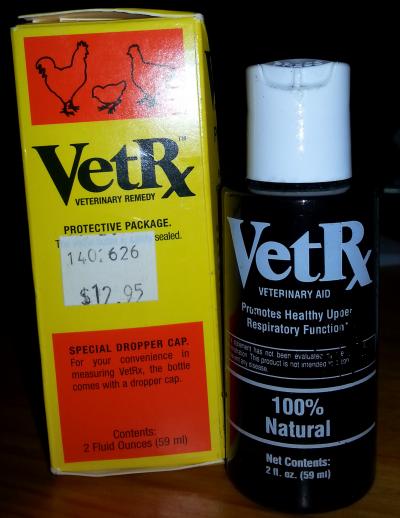 Unfortunately I have no evidence that I have ever cured any problems using this liquid. The poor Dark Campbell duck passed away after a long period of us trying to cure it… with the cheeks as swollen as ever.
As opposed to Verm-X, the ingredients of VetRX are kept in secret, but the producer recommends it against various ailments such as colds, eye problems, mites etc. You can also mix it with water and use it for disinfecting the bird house, for instance. For more information, refer to the producer's web page.
The liquid is highly recommended in forums and blog posts and is actually cheap enough (around $ 13) so it can be ordered from outside the European Union without any hassle with customs charges and the like, and the shipping costs are reasonable (around 4 euros if I remember it correctly). Again, I have used Ebay for ordering mine a couple of times. I like to drop it into the drinking water of the ducks for a change, but I'm not sure if I'll buy it again, simply because it is so much easier to go to the drug store and buy grapefruit seed extract. The smell is wonderful, however.
The third one among my favorite liquids is the classic tea tree oil.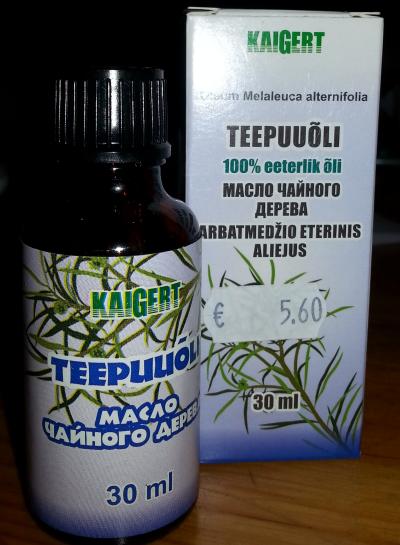 Again, available from almost any drugstore, this liquid is powerful against all kinds of fungi in both humans, animals (including yeast infections) and buildings. Also, its strong smell helps to hide the smell of the droppings in the duckhouse… should it be a problem. It lasts long, so the 6 euros for a bottle are not that much at all.
Finally, here is my recipe for a solution that I use for killing fungi on the walls of the duckhouse. When the autumn is warm and damp, they tend to appear and I don't want the ducks to get into respiratory issues.
Mix into a sprinkling container
500 ml of water
3 ml of tea tree oil
30 drops of grapefruit seed extract
… and sprinkle on the surfaces generously!